Hoi An Ancient Town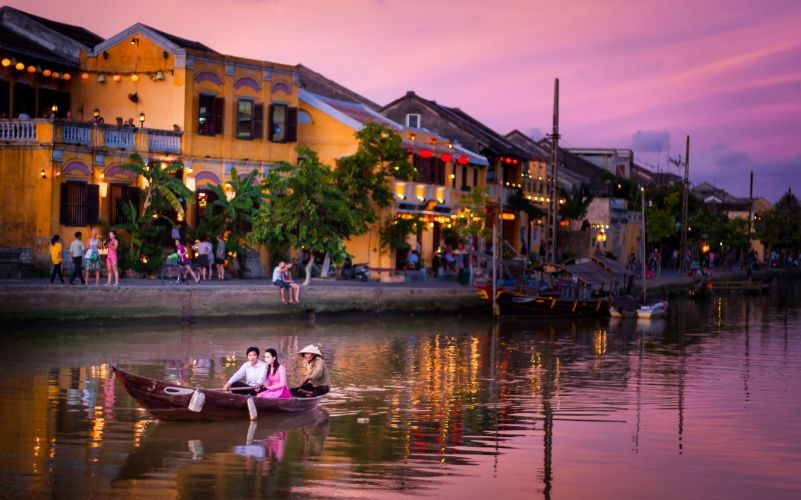 A short 30km drive to southwest of Da Nang, Hoi An, originally a harbour for the Cham city at My Son, the town became a trading port for Chinese, Japanese and European traders, reaching its zenith during the 17th century. The tranquil town of Hoi An rests on the shores of the Thu Bon River. Known as Faifo to early Western traders. The long houses built by the merchants reflect the architectural styles of their homeland and remain in near perfect condition today. In recent years, Hoi An's traders have dedicated themselves to the arts, and the town is home to dozens of art galleries, textile houses and museums. Transportation around Hoi An is by cyclo, on foot or by hired bicycle. A half-hour pedal at a leisurely pace brings visitors to Hoi An's popular beach. Alternatively, one can rent a local sampan and enjoy a peaceful boat ride down the river to the beach. Visitors can take an early morning walk through the market and marvel at the quaint narrow streets and centuries-old communal houses and pagodas. Mor eover, monthly festival on full-moon night is worth a visit.
Old houses:
In Hoi An, there are many old houese were built in the 18th century or earlier, the old houses are the very soul and lifestyle of Hoi An. They are usually long, running from one street to another, and very convenient for business and for residence as well. Antique collections of ceramics, paintings, coins, books and furniture still remain in many ancient houses. To see the inside of some of the houses, visitors can go to Tan Ky at 101 Nguyen Thai Hoc St., Diep Dong Nguyen at 80 Nguyen Thai Hoc St., and Phung Hung at 4 Nguyen Thi Minh Khai St.
Streets for Shopping:
While enjoying Hoi An's quaint charm with a walk along the ancient streets, a day of shopping pleasure also awaits visitors with a variety of traditional products such as wooden carvings, pottery, woven mats, embroideries, etc. The central market is famous for clothes made to measure in a few hours (suits, kimonos, ao dai, etc). Don't forget to explore the many workshops at 92 Phan Chu Trinh St., 23 Le Loi St., 9 Nguyen Thai Hoc St., and 103 Nguyen Thai Hoc St. where visitors can see skilled craftsmen at work (wood carving, weaving, embroidering, painting, etc). Unique souvenirs and curios can be found in Hoi An.
Japanese Covered Bridge:
Location: Japanese Covered Bridge, also called the Pagoda Bridge (Chua Cau) is located in Hoi An Town, Quang Nam Province.
Characteristics: The Pagoda Bridge was built in the 16th century and is still incredibly well-preserved.
More than 400 years have passed and the covered bridge has always been a good shelter for passers by escaping from the rain and heat.
On the northern side of the bridge is a Japanese pagoda to protect sailors. There are statues of two dogs located at the western end of the bridge and two monkeys at the eastern end. It is said that the construction started in the year of the monkey and finished in the year of the dog, according to Chinese calendar. Other legend is said that the statues on the bridge might have been put there by the Japanese to control this monster, since the dog and the monkey are sacred animals according to their Totem religion.
Ong pagoda:
Location: Ong Pagoda is located at 24 Tran Phu St., Hoi An Town, Quang Nam Province.
Characteristics: Ong Pagoda is one of the typical pagodas in Hoi An's old quarter.
It was built in 1653 and is dedicated to Quan Thanh De Quan (Quan Van Truong) , who was one of the generals in the three-kingdom period of ancient China. The pagoda has been restored many times.
Phuoc Kien Assembly Hall:
Location: Located at 46 Tran Phu St., Hoi An Town, Quang Nam Province.
Characteristics: Phuoc Kien Assembly Hall, also called Kim Son Pagoda, was built in 1692 by Chinese Phuoc Kien merchants.
It has since been restored and enhanced many times. Because it was used for worship as well as for meetings by the Chinese from Phuoc Kien Province, this construction is now called the Phuoc Kien Assembly Hall.
The Holy Mother and the Goddess of the Sea, Thien Hau, are worshipped in the main sanctuary. The Phuoc Kien ancestors and the God of Prosperity are worshipped in the sanctuary behind the main one.
This temple is architecturally unique with its artistic ornaments and beautiful statues. The Chinese architectural style combined with Vietnamese workmanship has enriched it with Hoi An's cultural character.
Tan Ky Ancient House:
Location: Located at 101 Nguyen Thai Hoc Road, Hoi An Town, Quang Nam Province.
Characteristics: Tan Ky House was constructed almost two centuries ago as the house of a Vietnamese merchant.
It has always been lovingly preserved and now looks almost exactly as it did in the early 19th century.
The design of Tan Ky House shows how local architecture incorporated Japanese and Chinese influences. Japanese elements include the crab shell-shaped ceiling supported by three beams in the living room. Chinese poems written in mother-of-pearl are hanging from a number of the columns that hold up the roof.
Cua Dai Beach:
Location: Cua Dai Beach is located in the area of Cam An Ward, about 4km to the north-east of Hoi An Town, Quang Nam Province.
Characteristics: Cua Dai Beach is over 3km in length and up to 300m in width. The beach boasts fine white sand, clear and blue water, moderate slopes and small waves, which make it ideal for recreational activities like swimming and other sea sports.
After visiting the relics in the old town, visitors can go to Cua Dai Beach to enjoy sea food specialities in an ideal environment of immense sky and sunshine.
In the shady palm-lined road bordering the beach stand some large seaside resorts such as Hoi An Beach Resort or Victoria Resort, where lodgings built in Vietnamese traditional style are available. On summer holidays, the famous beach of Cua Dai cools off those heading to Hoi An.
Cham Islands:
Location: Cham Islands also called Cu Lao Cham, is situated approximately 20km from Hoi An Town, Quang Nam Province in the East Sea.
Characteristics: Visitors to this island can enjoy the landscape, food and entertainment, as well as bathing in the fresh and pure environment.
Covering an area of 15 km2, this archipelago includes seven islands with evocative names: Hon Lao (Hon Ong), the largest and most populous; Hon Kho Me, Hon Kho Con, so called because of their arid soil; HonTai having an ear-shaped figure; Hon Dai, resembling a wave; Hon La, that of a boat and Hon Mo, the shape of a tomb. Three mountains rise from Cu Lao Cham: Ngoa Long, Bat Long and Tiem But.
According to archaeologists, Cham islanders first settled there 3,000 years ago and established business contacts with external countries some 1,000 years ago. Up to now, Cu Lao Cham has preserved many architectural constructions which date back to the 18th – 20th century. They include the shrine dedicated to Than Yen Sao, built in 1843 at Bai Huong, and Hai Tang Pagoda, built in 1753 on the western hillside of Hon Lao.
Still, Cu Lao Cham has more to offer. After a 3-hour canoe trip, one may hop over to the famed Well of the Cham people. Situated in a salty-water area, this square-bottom well, amazingly, provides clear fresh water all year round.
Enjoyable extras include white-sand, pristine beaches and captivating attractions evocatively named Bai Ong, Bai Bim, Bai Chong, Bai Bac, Suoi Tinh, Cau Mo, Suoi Ong, and so on, where tourists can relax, go hunting, fishing - even fishing octopuses.
Travellers also have chances to view the sea swallows' nests clinging to the towering cliff. Cu Lao Cham wins kudos for its seafood and delicacies (octopuses, lobsters, fish's fin, abalone, kaki, hind, cholonia's eggs, birds' nests, etc.) and fascinating souvenirs (pearls, conches, tortoise-shells, etc.)
My Son, a World Heritage Site:
Location: My Son lies in a narrow valley in Duy Tan Commune, Duy Xuyen District, Quang Nam Province. 70km southwest of Danang City, 20km away from the Tra Kieu Citadel, and 40km away from the ancient town of Hoi An.
Characteristics: My Son is a group of temple-towers of Cham people. With its great value, in December 1999, the complex of My Son Cham Towers has been recognised as a World Heritage Site by UNESCO.
Various researches by archaeologists and architects have revealed that at the beginning, there was only one small wooden temple built by King Bhadresvara I in late 4th century. In the 7th century, King Sambhuvarman had it rebuilt, using more durable materials From then on, successive Cham kings, when enthroned, had their temple-towers constructed as offerings to their gods. During seven centuries (7th to 14th century), such temple-towers mushroomed in My Son, turning this land into a cultural, and religious center of the Cham Kingdom.
My Son was a complex of constructions, including different temple-towers and stela in various architectural styles. French researchers listed some 70 temple-towers there. However, time and war together have taken their toll on these relics. Now, only 20 temple-towers remain almost intact. The rest have been reduced to ruins. These vestiges are valuable treasures of information for studying the development of Cham culture. During its seven centuries of development, Cham arts produced many works equal to masterpieces of the world. Though less impossing than the Angkor in Cambodia and less diversified than the Pagan site in Myanma, My Son is unique of its kind in Southeast Asia.