SaPa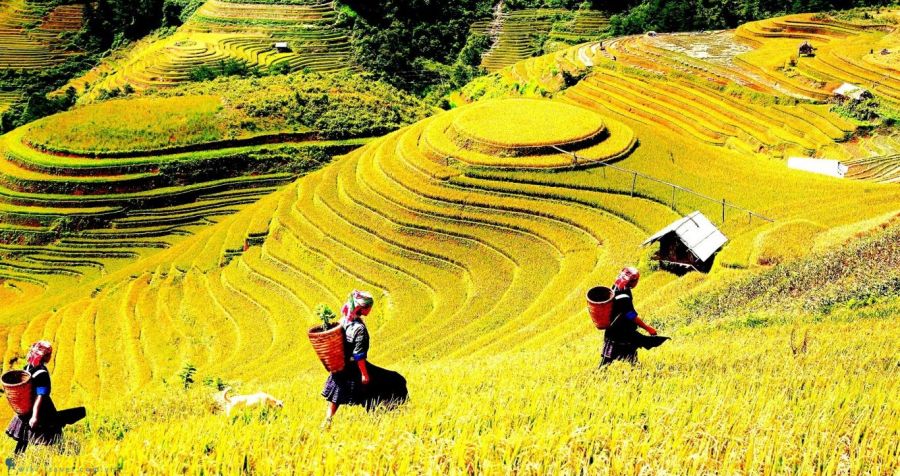 At 1,650 m above sea level in Vietnam's remote northwest mountains, Sa Pa is known for both its fine, rugged scenery and its cultural diversity. Sa Pa is a picturesque town in the Hoang Lien Son mountain range near the Chinese border in northwestern Vietnam, known as "the Tonkinese Alps". Sa Pa and its surrounding region is host to many hill tribes, as well as rice terraces, lush vegetation, and Phan Si Păng (Fansipan), the highest peak in Indochina (Cambodia, Laos, and Vietnam). Other great mountains like Aurora & J, where Sa Pa sees the first rays of sun, make up a very steep valley. As a result of a recent surge in popularity, Sa Pa has become a tourist hotspot where money is the new drug of choice. Throngs of vendors can be found in the streets, aggressively selling their wares. Don't be put off by the rush, your explorations of the surrounding countryside will be worth the trouble.
Although the new cable car and the host of large hotels being built with apparent disregard for the mountain environment have perhaps reduced the charm of Sapa, a short walk or drive will still reward the traveller with unspoiled views.
Many ethnic minorities live in and around Sa Pa. Excluding the ethnic Vietnamese Kinh people, eight different ethnic minority groups are found in Sa Pa: H'mong (pronounced mong), Dao (pronounced yao), Tay, Giay (pronounced zai), Muong, Thai, Hoa (ethnic Chinese), and Xa Pho (a sub-set of the Phu La minority group). However, the last four groups comprise fewer than 500 people in total. The population of the district was estimated at 31,652 (1993) of which 52% were H'mong, 25% were Dao, 15% were Kinh, 5% were Tay, and 2% were Giay. Around 3,300 people live in Sa Pa town, while the remainder are peasant farmers distributed unevenly throughout the district.
Many older women in particular make items such as ethnic clothing and blankets to sell to tourists. Striking up a conversation with them can be very rewarding and their spoken English is impressive. Doing this in Sa Pa town will sometimes lead to a scrum if other vendors smell a potential sale.
Children from these ethnic minorities often help support their families financially through selling trinkets to tourists. They peddle small metal or silver trinkets, embroidered pillow cases and friendship bands in the main town, and often walk for several hours from their villages to reach town, perhaps skipping school. At the end of the day, some take a motorbike ride back to their village, some walk home and some sleep in the market. Do not encourage this by buying from children. Buy from adults.
Girls and boys marry young (around 15–18) and often have two children by the time they are 20 years old. Poverty has led to a lot of girls leaving their villages each day to go selling in Sa Pa town, and depending on their luck, may only have one meal per day.
In winter (the four months from November to February), the weather in Sa Pa is invariably cold, wet and foggy (temperatures can drop to freezing and there was snow in 2011). Travellers have rolled into town on a gloriously clear day and then spent a week trapped in impenetrable fog. When it is like this there really isn't very much to do. Also the rice paddies are brown and empty (they are planted in spring), the paths very muddy and slippery and the glorious vistas of summer are completely hidden in the mist. If you choose to visit in winter, take along warm clothes or prepare to be cold and miserable as many hotels do not have efficient heating in their rooms. During that time, the more upmarket hotels that do have heating fill up quickly, so make advance reservations if you can afford not to freeze.
It rains often during the month of August, especially in the mornings.
However, if you choose to come in summer, say in May, then be prepared to sweat. Hostels may not have air-conditioning so check them out first before making your booking. If you have come to see the rice terraces, you will be disappointed as you would not be seeing beautiful, green rice terraces as the local farmers would have just started to work on the field.