SINGAPORE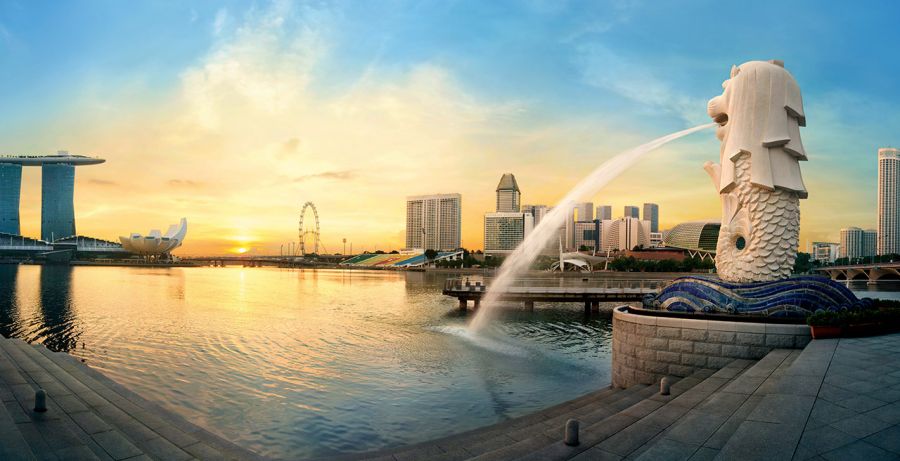 JURONG PARADISE
The JURONG BIRD PARK, on 20 hectares of lanscaped grounds, brings you face to face with mankind's feathered friends. The park has over 7,000 exotic birds. As you enter, the talkative and brilliantly coloured macaws welcome you with their constant chattering and fussing.
In the world's largest AVIARY, the birds fly freely around you in a tropical rainforest enviroment. Pelicans and swans resides in the nearby lakes, whilst rare species of crane wade in the CRANE PADDOCK.
At the famed BIRD SHOW the Monarchs of the skies are trained to re-enact their hunting prowess. Regal in their bearing, these eagles, falcons and vultures are sure to impress.
Adourn indoors to the WORLD OF DARKNESS. Using ingenious lighting effects, we catch rare and priviledge glimpses of the nocturnal world of owls, bats, night herons and kiwi birds.
Note: If it rains, the Bird Show will be cancelled.
SINGAPORE BOTANIC GARDENS
- The Gardens epitomises the tropical island's luxuriant parks. Spread over 52 hectars and close to the centre of the city, the Gardens is a combination of untouched primary forest and specialty gardens displaying frangipanis, roses, ferns and desert plants, to name a few. There are numerous plant species here, including many rare specimens, reflec the Garden's richness and diversity of plant life.
- The present orchid enclosure has 20,000 orchid plants on display. The National Orchid Garden promises sprawling orchid displays, water features, and an exotic bromeliad collection from Central and South America. Other attractions for visiters' enjoyment include Palm Valley, Eco Lake and outdoor concerts on Symphony Lake.
- Shop for exquisitely beautiful gift items at the RISIS Store located at the entrance of National Orchid Garden. Its merchandise ranges from ornate sets of orchid brooches to unique name cardholders with designs inspired by the Peranakan culture, which is a fusion of Chinese, Malay and European influences. Definitely a great place for those who are looking for special mementos.
- If you are looking for a fine dining experience by the greens, head on down to Au Jardin, an exclusive little French restaurant serving one of the best French cuisine in town. If fine dining is not your cup of tea, drop by any of the cafes ideally located in the Gardens.
SENTOSA ISLAND
Fun island … themed entertainment….tropical resort….nature park….Singapore's island resort.
A former fishing village turned British military base, Sentosa was transformed into an idyllic island resort in 1972 for the enjoyment and recreation of everyone. To describe Sentosa as merely one thing or another would do not justice to the multiple facets of this island jewel half a kilometre south of Singapore. Afterall, it is the variety and versatility that make Sentosa (meaning peace and tranquillity) different and special for millions of visitors from all around the world. And unlike any other vacation destination, you are right on the fringe of the city's buzz, which is just minutes away by cable car, ferry or via a 710 metre road link.
Once you step afoot the island, you can find your own slice of paradise among the many exciting attractions – history and culture come alive, entertainment by day and night, lush green surroundings to explore, manicured gardens, dancing fountains and two challenging international 18 –hole golf courses with scenic undulating views.
UNIVERSAL STUDIOS
This massive complex of themed rides, live shows and Hollywood movie-sets pulls in millions every year, and is part of the enormous US$4.5 billion Resorts World Sentosa development. Although of course appealing more to the kids, the sheer size and variety of the park means that there is something here for everybody. Seven sections including Hollywood, New York, Ancient Egypt and Madagascar takes you through both a cinematic and geographical journey. If white-knuckle rides, huge roller coasters and live movie scenes are your thing, there really is no better place in Singapore than Universal Studios in Sentosa.
02. SENTOSA BEACHES
Singapore is famous for its staggering manmade developments that have quickly turned what was just a small jungle island into a sprawling metropolis in just a matter of decades. Its beaches are no exception; the pristine white sands you see today on Sentosa's coast are all the result of human intervention. Although technically manmade, there is nothing fake about the soft sand, which is actually imported in from nearby Malaysia. Sentosa island boasts 3.2km of the white stuff, and visitors can find plenty to do, such as lounging at one of the various beach bars (sea Sentosa nightlife), splashing around in the shallow warm sea or just finding a quiet spot underneath a palm tree with a good book for the afternoon. For the best spots, head to Tanjong, Palawan, or Siloso Beach.
03. CRANE DANCE:
Singapore's Crane Dance is a family friendly audio visual extravaganza, similar in style to the Symphony of Lights in Hong Kong. Head to Resorts World Sentosa on any night of the week at 20:00 to see two graceful love-birds dance and flirt to the sound of music, all of which is spectacularly lit up in the dark. The show promises groundbreaking audio visuals, water effects and LED light which really impress the crowds who come to watch - for free - every night. You can also catch the show from across the water at Vivo City on the main Singapore Island if you don't fancy making the short journey across to Sentosa Island.
04. SKYLINE LUGE SENTOSA
Part attraction – part method of transportation - Sentosa Skyline Luge & Skyride is a perfect way of getting from A to B all whist getting some great views across Singapore, as well as an adrenaline fix too! The Sentosa Skyride is an open-air cable-driven chairlift which stretches from mainland Singapore all the way to Sentosa island. Within the same complex, visitors can also try their driving skills at the luge - a non-motorised, three-wheel carrier that goes down a steep hill from near the Imbiah Lookout and ends at the Siloso Beach. Both activities offer tree-top views of the nearby beaches as well as the Singapore skyline.
05. PORT OF THE LOSS WONDER
Port of the Lost Wonder is an attraction dedicated to families with young children. This Sentosa attraction lies right by the beach, features a whole host of play areas, themed slides and climbing frames, as well as plenty of restaurants and retail options to keep the adults happy. Port of the Lost Wonder organises games and activities throughout the day, both fun and educational for the kids, and also put on their highly recommended 'Bubble Party' on the weekends. The centre also features historical statues and artefacts dotted around referencing the fascinating history of Singapore. Port of the Lost Wonder is easy to find on Sentosa island just next to (not inside) the huge Resorts World Sentosa.
06. TIGER SKY TOWER
The Tiger Sky Tower in Sentosa is Singapore's highest viewing tower at 131 metres – the equivalent of about 50 storeys. Getting to the top is a ride in itself, as visitors must enter a cabin which gradually reaches ascends to the peak. Along the way, a running commentary details the brief but interesting history of the Sentosa Island, pointing out famous landmarks across Singapore along the way up. The views at the top are simple breathtaking; you have a 360 degree panorama across Singapore to the north and the sea and surrounding Indonesian islands in the distance to the south. Tickets are around S$15 for adults and children ride for a little cheaper.
07. RESORT WORLD SENTOSA CASINO
This casino is part of the first ever and biggest integrated resort in Singapore - Resort World Sentosa. Spread over 49 hectares of land, Resort World Sentosa is one of the most popular tourist attractions both on Sentosa Island as well as in the whole of Singapore. Resort World Sentosa Casino was also a first of its kind in Singapore, opened at the start of 2010 slightly before the Casino at the Marina Bay Sands Resort opened its doors. The casino here boasts a whole host of luxurious gaming areas, including poker and blackjack tables, lines of slot machines and plenty of bars to celebrate/down your sorrows after an evening's flutter.
08. SINGAPORE BUTTERFLY & INSECT KINGDOM
Just because Sentosa is a manmade island, that doesn't mean there isn't any nature to see. Singapore Butterfly & Insect Kingdom is testimony to that fact, showcasing more than 3,000 different species of insects from across the world. Set in a lush tropical background, there is plenty of vegetation and blooming flowers that create an authentic and realistic environment, as well as a few cascading waterfalls which help to cool the air. Don't just expect thousands of butterflies and creepy crawlies either; Singapore Butterfly & Insect Kingdom is also home to some impressive jungle parrots and an area dedicated to reptiles including various different types of lizards and snake.
09. SENTOSA GOLF CLUB
Sentosa Golf Club boasts not one, but two 18-hole golf courses, drawing in everybody from amateur golfers to the professionals. Although Singapore has numerous golf clubs dotted around the island, few rival the one found at Sentosa, both in terms of the quality of the course and its prestigious status. Those visiting Singapore without all the essential gear shouldn't worry: Sentosa Golf Club provides all the facilities and equipment you would ever need, including buggy cars, caddies, and clubs for hire. On site, there are also locker rooms, a driving range, shops, several bars and restaurants and meeting spaces. Everything you need all conveniently in one club.
10. SENTOSA NATURE DISCOVERY
Sentosa Nature Discovery is another great activity on the Sentosa Island for both nature lovers and families with young kids. The attraction starts off on an educational note, with visitors being treated to a range of interesting galleries and interactive exhibitions; this is all a prerequisite for entering the jungle, the idea being that you will become equipped with some skills and information needed for spotting some wild life yourself. The jungle trail takes you through eight different types of habit with an abundance of different vegetation, trees and wildlife, including birds, insects - and if you're lucky - the odd reptile. You can find Sentosa Nature Discovery located next to the Butterfly Park & Insect Kingdom (see above). One more important thing: entrance is free for all!