THAILAND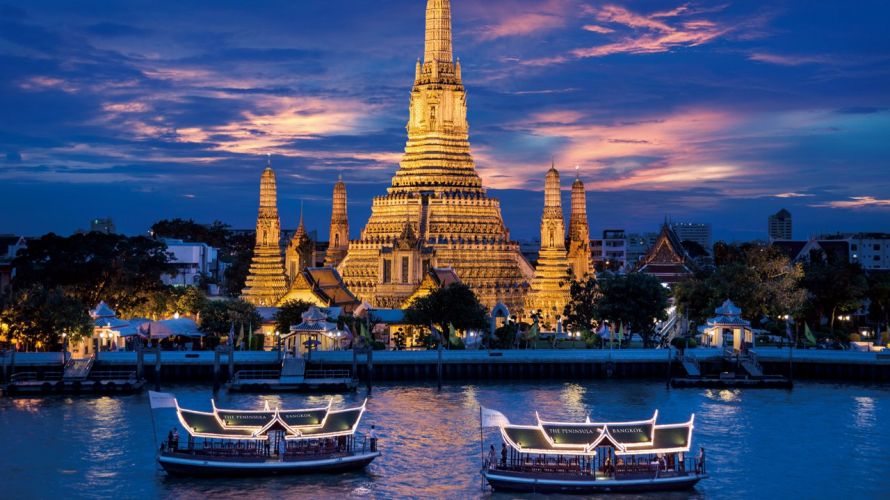 Thailand is the travel hub of Southeast Asia. Most people coming into the region fly into Bangkok and make that their base for doing the circuit around Southeast Asia. With its lush jungles, famed beaches, world-class diving, amazing food, friendly and cheap prices, Thailand is by far my favorite country in the world! I've been coming to the country since 2005, lived there for 2 years, and always seem pulled back to it. It's an easy country to travel and you can meet a lot of other people there. You're never alone! The country is a well-worn destination on the backpacking trail and everything is convenient and easy. However, there are still many off the beaten path destinations aways from the crowds and the prices they bring. Overall, Thailand speaks for itself. When you hear its name, you already think about beaches, beauty, jungles, and food. And your thoughts are spot on.
1. Bangkok:
Bangkok welcomes more visitors than any other city in the world and it doesn't take long to realise why. Bangkok is a city of contrasts with action at every turn. Marvel at the gleaming temples, catch a tuk tuk along the bustling Chinatown or take a longtail boat through floating markets. Food is another Bangkok highlight, from local dishes served at humble street stalls to haute cuisine at romantic rooftop restaurants. Luxury malls compete with a sea of boutiques and markets, where you can treat yourself without overspending. Extravagant Luxury hotels and surprisingly cheap serviced apartments welcome you with the same famed Thai hospitality. And no visit to Bangkok would be complete without a glimpse of its famous nightlife. Be it nightclubs, cabarets or exotic red-light districts, Bangkok never ceases to amaze.
We truly believe this is the finest Bangkok travel guide online. But with so much content on our favourite city, it can be difficult to find exactly what you're looking for. That's why we made these specialized mini guides to suit different types of visitor. If you're looking for somewhere special to impress your new bride or a restaurant with a kids' menu, we have you covered.
Bangkok is as intoxicating as it is diverse; a melting pot of exotic aromas, interesting sights and visual delights. It's a city with infinite layers which you need to explore to reveal its hidden secrets. If you're planning a trip to Bangkok - or Krung Thep as it's called in Thai - make sure to allow enough time to see some of the treasures that has given this city iconic status. At least three to five days. In this section we feature some of the highlights and traditional must-see attractions. Find the best Bangkok attractions by area or pick the topics that interest you, whatever it is you are looking for we have covered just about all of the attractions in Bangkok so you can be sure you won't miss a thing.
2. Chiangmai:
Chiang Mai is a land of misty mountains and colourful hill tribes, a playground for seasoned travellers, a paradise for shoppers and a delight for adventurers. Here the curious can expand their horizons with Thai massage and cooking courses. The aesthete will be bowled over by the variety of handicrafts. The wild child will find plenty of lively nightlife, and the epicure can indulge in wonderful cuisine. Chiang Mai truly has it all.
Chiang Mai is quickly becoming one of the most popular destinations in Thailand. The scenic mountain terrain beckons travellers to explore its peaks and forests, while the city is home to a wealth of historic and cultural sites waiting to be discovered. Whether you're the adventurous type who loves outdoor activities or a cultured epicure who loves to experience the finer things in life, a holiday in Chiang Mai will more than satisfy you – it will amaze you.
Chiang Mai - Thailand, one of the most relaxing places on the planet. Mist covered mountains, ethnic hilltribe villages, rolling rivers, historic temples, wild elephants. Adventure, trekking and inspiring scenery. Located 700 miles from Bangkok, the gateway to northern Thailand and beyond.... Less crowded than Phuket, more laid back than Koh Samui, and just 1 hour 90 minutes by air from Bangkok, with a range of accommodation from budget to deluxe. This idyllic province really is the ultimate destination.
3. Pattaya:
Pattaya is always switched on and fun. This vibrant coastal city shot to fame in early 1980s, and stayed there. From sunrise to sunset, Pattaya's beaches are constantly brimming with life, as water sports lovers and sun worshippers take to the waters. After dark, the action shifts to the streets, as revellers explore its electrified nightlife scene, where drinking and partying continue until dawn. Apart from water sports and nightlife, Pattaya offers endless possibilities when it comes to accommodation and entertainment. It has outgrown its image as a seedy beach town to a destination for a wider audience; whether couples, families or business travellers, Pattaya has something for everyone. Only 147km from Bangkok, Pattaya is the closest of Thailand's major beach resorts to the capital city.
Pattaya is known as a party city and it is a reputation it justly deserves. The town is littered with great nightlife hotspots, catering to very varied tastes. Aside from the world-renowned Walking Street, the city is also home to several first-class cabaret shows, beach clubs, Muay Thai boxing stadiums and a seemingly endless variety of beer bars offering extremely cheap beverages. Walking Street itself is the most popular place to go at night. It is a full kilometre of nightlife, including over 80 go-go bars, several restaurants, live music, nightclubs and huge number of bars, each with a unique character.
4. Phuket:
Phuket is among the world's finest beach destinations, with fine white sands, nodding palm trees, glittering seas and lively towns. It has something for any taste and budget, with hundreds of hotels to choose from, a wide choice of dining and partying options. Aside from visiting the fantastic attractions of Thailand's biggest island, you can take an exhilarating speedboat trip to the many nearby tropical paradises, including the famous Phi Phi Islands, or enjoy a serene cruise around the mystical Phang Nga Bay. Phuket is blessed with more than 30 amazing beaches to choose from. Patong Beach, Kata, Karon and Kamala have always been the most popular, but the north of the island reveals some hidden gems for travellers searching for a more romantic atmosphere.
Phuket Island is 48km long and 21km across at its widest point, so you're never far from the sea at any given point. The weather is at its best from March to early May and at its wettest from May to October, though mornings and afternoons are still generally sunny and clear. Temperatures tend to be between 25°C on the coolest nights and 33°C on the hottest days.
With its glittering temples, impressive scenery, idyllic beaches and friendly locals, Phuket Island is immensly rewarding to those who take the time to explore its many attractions. There is something to see for virtually anyone, including nature at its most jaw-dropping and man-made structures at their most intricate and inspiring. Learn something new at the various shows and museums or admire beauty at galleries and viewpoints. From the southern Phromthep Cape to the top of the island at the Sarasin Bridge, Phuket is packed with new, fascinating and memorable attractions. For your convenience, we have sorted these by area to help you find what there is to see and do immediately around you, wherever you may be on Phuket.